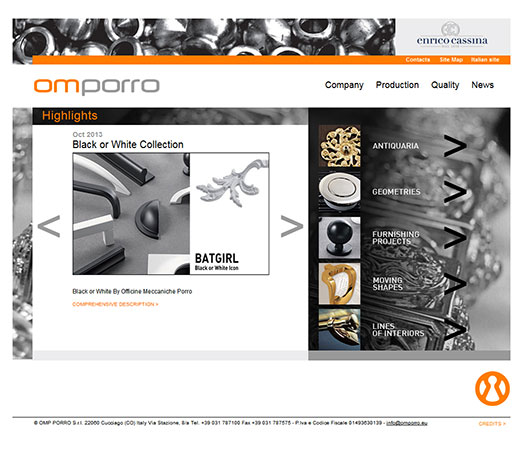 OMP Porro
The perfect combination of industry and design A precept created from initiative, innovation, solidity.
"To really believe in our work, to believe in the importance of doing things well, to believe that a company doesn't just produce objects but represents the life of a geographical area, relationships with people, the surrounding environment, the emotion of believing, perceiving, trying, succeeding.
This is Omporro, and this is why, during times of difficult generational transformations, the enthusiasm of one generation was passed to their children and grandchildren. For three generations, the Porro family and their collaborators, who are often also part of the second generation "in the company", observe, travel, draw, study, discuss, design, create prototypes, produce, evaluate, and then as necessary re-evaluate and start over from the beginning, even to create a miniature 4 centimetre knob, but made in the best way and with the best products that can be used.
Omporro has done all this since… and today employs… people who every day work hard just so that every little object is… simply perfect."
Visit the website at www.ompporro.it